Safety Fest of the Great Northwest Pocatello



2023 will be our 14th Year!

Safety Fest of the Great Northwest Pocatello is an annual training event that offers FREE safety and health training courses to workers, supervisors, and managers of all levels. We offer this benefit to the community to provide safety and health training in an effort to help reduce fatalities, injuries, and illnesses. We focus on keeping this training free so that local small businesses with minimal or non-existent training budgets never have to suffer when it comes to safety training.
Event:
May 9-11, 2023
2023 Registration Begins April 10, 2023.

Location
In-person at ISU.
1111 Martin Luther King Jr Way
Pocatello, ID 83209
Parking
Parking around the COT/RFC Building - Lot R-08 - Download Map (PDF)
Who's Invited to Attend
The Construction, General and Transportation Industries; highway jurisdictions, contractors and construction personnel; any business requiring safety related training. As well as anyone who desires to improve the safety performance of their business/agency.
Cost
$0.00—all sessions are FREE
How to Register
A link will be added to this site. Please visit this page for more details, online registration opens April 10, 2023.
Sponsors/Vendors/Instructors
Want to be a part of keeping this valuable training free to our front line workers?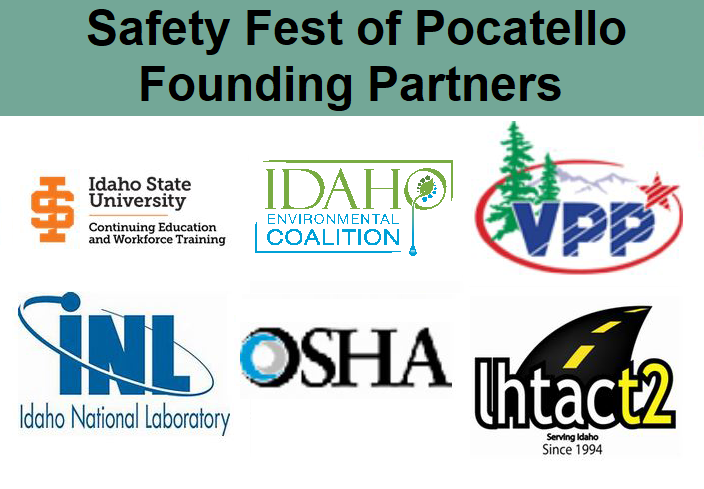 Contact:
ISU Continuing Education/Workforce Training
921 South 8th Ave., Stop 8380
Pocatello, ID 83209
Office Phone: 208-282-2789
No Shows
Please do not be late for your class, and please DON'T be a "No Show". That is a seat that could have been filled by another willing student. Please respect that all our instructors volunteer their time and material to teach at Safety Fest.
Support
As always, we could not do this event without all of the support and contributions from our Founding Partners, Community Partners, Sponsors, Vendors, Instructors, and all our volunteers. Be sure to recognize these community advocates of safety for all of the great support they have provided over the years.
Not in the Pocatello area? Visit one of the other Safety Fest Locations: