Safety Fest of the Great Northwest Pocatello



2024 will be our 15th Year!

Safety Fest of the Great Northwest Pocatello is an annual training event that offers FREE safety and health training courses to workers, supervisors, and managers of all levels. We offer this benefit to the community to provide safety and health training in an effort to help reduce fatalities, injuries, and illnesses. We focus on keeping this training free so that local small businesses with minimal or non-existent training budgets never have to suffer when it comes to safety training.
Event:
SAVE THE DATE
May 7-9, 2024
Online 2023 Safety Fest registration is now Closed. Walk-ins are accepted. Please call (208) 282-3372 for specific class inquiries.
After registration, please email cetrain@isu.edu to add/cancel any classes from your schedule.

Topics Include:
Aerial Work Platforms
Coaching Plain and Simple
Comparing the Traditional Deficit verses the Strength Approach to Safety
Confined Spaces
Construction Focus Four and Heat Hazards
Controlling Workplace Hazards
CPR First Aid (FULL)
Combustible Dust
Cybersecurity Awareness
Damage Prevention/Safe Digging
Effective Communication
Effectively Communicating in the Workplace
Excavations and Trenching (FULL)
Fall Protection
Framing Issues Using a Strengths Approach
Hazwoper 8 Hour Refresher
Hearing Conservation
Heat and Cold Stress
Highway Safety Countermeasures That Work
Human Performance Improvement
Implementing an Effective Respiratory Protection Program
Improved Safety Performance using Behavior Design
Improving Physical Safety Through Psychological Safety (FULL)
Learn About Child Labor Rights
Mental Health in Construction
OSHA #7205 Health Hazard Awareness and ARTBA Other Infectious Diseases
OSHA #7005 Warehousing and Storage
OSHA #7100 Machine Guarding
OSHA #7505 Introduction to Incident (Accident) Investigation
OSHA 10 Hour Construction
OSHA 10 Hour for General Industry
OSHA #7300 Understanding OSHA's Permit Required Confined Space Standards
OSHA #7405 Fall Hazard Awareness for The Construction Industry – Spanish
OSHA #7485 Recordkeeping Rule Seminar
Overview of Traffic Sign and Pavement Marking Retroreflectivity Requirements
Physical Therapy for Injury Prevention/Response
Practical Measures to Reduce Auto Risks
Raising and Resolving Employee Issues
Respirators
Rigging Fundamentals
Scaffold User
SKYWARN spotter and Weather Safety Training
Spotter Safety
The History and Importance of the Life Safety Code (NFPA-101)
Well-Being, Engagement and Development
Workplace Active Aggressor Preparedness
Location
In-person at ISU.
1111 Martin Luther King Jr Way
Pocatello, ID 83209
Parking
Parking around the COT/RFC Building - Lot R-08 - Download Map (PDF)
Who's Invited to Attend
The Construction, General and Transportation Industries; highway jurisdictions, contractors and construction personnel; any business requiring safety related training. As well as anyone who desires to improve the safety performance of their business/agency.
Cost
$0.00—all sessions are FREE
How to Register
A link will be added to this site. Please visit this page for more details, online registration opens April 10, 2023.
Sponsors/Vendors/Instructors
Want to be a part of keeping this valuable training free to our front line workers?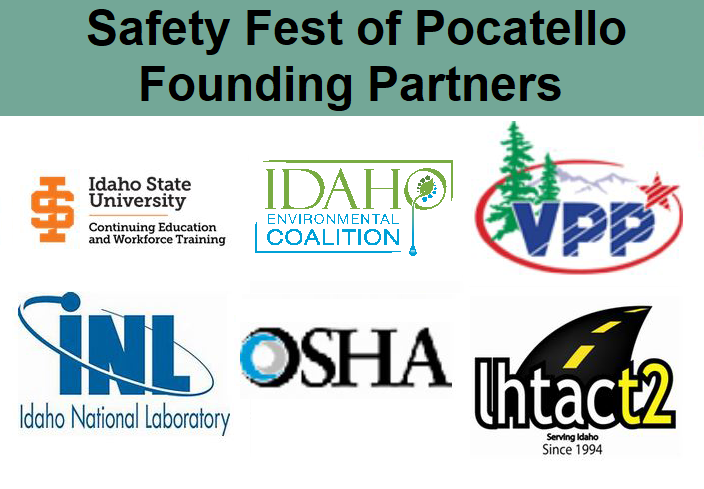 Contact:
ISU Continuing Education/Workforce Training
921 South 8th Ave., Stop 8380
Pocatello, ID 83209
Office Phone: 208-282-2789
No Shows
Please do not be late for your class, and please DON'T be a "No Show". That is a seat that could have been filled by another willing student. Please respect that all our instructors volunteer their time and material to teach at Safety Fest.
Support
As always, we could not do this event without all of the support and contributions from our Founding Partners, Community Partners, Sponsors, Vendors, Instructors, and all our volunteers. Be sure to recognize these community advocates of safety for all of the great support they have provided over the years.
Not in the Pocatello area? Visit one of the other Safety Fest Locations: