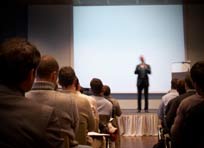 Workforce Training has developed a new line of Webinar Training for Educators.
No need to go out in the cold, you can access the webinars from any high-speed internet connection. Since these are live broadcasts, you will be able to type in questions for the presenter to answer immediately.
Each 1-hour webinar accommodates 100 live registrants. The recorded version will become available within 24 hours after the live event's completion. It will be posted for 30 days to those who registered for the event and can be accessed in the student portal (My Account).
If you have never attended a Connect Pro meeting before, test your connection here:
http://isu.adobeconnect.com/common/help/en/support/meeting_test.htm
Request a Course
If you have ideas for additional courses, or would like to request a specific topic, contact us.